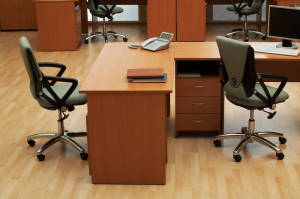 Laminate flooring is a very popular choice for commercial use, particularly for retail and office environments. With laminate flooring you have the beauty and sophistication of real wood textures coupled with fantastic durability and ease of maintenance. Laminate flooring is very cost effective and is much cheaper than real wood.
If you have a busy commercial space, laminate can withstand a heavy footfall, and be easy to wipe clean at the end of the day. If you are in the restaurant or bar business, laminate will not absorb spills and stains. Laminate can also be specially installed with underlay to minimise acoustic noise.
Laminate flooring comprises of a number of layers of tough fibreboard. The strength of laminate flooring comes from the core layer which also gives resistance to dents. The durability and ease of maintenance comes from the wear layer which is designed to resist scratches and stains. It also ensures that laminate flooring is easy to wipe down. The look of the laminate comes from the top decor layer.
At Cherry Carpets we use only the best quality laminates as they give superior protection from scratches and stains as well as being hygienic and highly water resistant. Our laminates all come with a 20 year guarantee.
Choosing the right look for laminate flooring
At Cherry Carpets we have a spectrum of laminate flooring options that mimic the appearance of their real wood equivalents. For a trendy look we would recommend pine and oak. For something more distinguished, you could consider merbau or wenge. With laminate flooring, the top decor layer is printed so there is literally no limit to the range of looks available: exotic woods, bamboo and even cork are all possible.
Choosing the right colour for laminate flooring
The colour of your floor needs to complement the colours used in your design scheme for the rest of the space. At Cherry Carpets our team will be happy to advise. As a guideline, pale woods reflect light and give the room a clean and crisp atmosphere. Dark floors exude opulence and elegance and will complement walls and furniture with rich colours.
Choosing the right durability when opting laminate flooring
Laminates are given an AC rating according to their resistance to wear. AC ratings range from 1 to 5. AC1 – AC3 are for domestic use only. AC4 is recommended for commercial spaces with moderate traffic such as a small office or an hotel room. AC5 is recommended for commercial spaces with heavy traffic such as retail spaces and boutiques.
Call now for a free quotation
At Cherry Carpets, we take great pride in every job, regardless of the size and we go the extra mile to ensure that we exceed your expectations and continue to build on the excellent reputation we have built. Our team are all fully employed by Cherry Carpets, meaning you get the benefit of fully accountable staff and also avoid the additional cost of paying a sub-contractors premium.
So, if you are considering a new laminate flooring for your commercial space then please call us on or click here to complete the contact form and we will be in contact within 24 hours.
We are proud members of Checkatrade and you can view feedback from our many satisfied customers on our company profile by clicking this link.