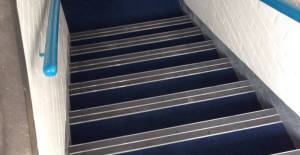 Commercial areas require an entirely different calibre of carpets compared to domestic rooms. Commercial areas are often highly trafficked and any carpet need to be heavy duty to withstand the rigours of a busy working environment. In addition, consideration must be given to the potential for the carpet to be subject to spills and dirt.
At Cherry Carpets we stock a wide range of heavy duty commercial carpets. Carpeting can be an ideal choice for commercial spaces for a number of reasons:
Maintenance
The costs of maintaining your space should be a primary consideration. Carpeting is easy to clean as all it requires is regular vacuuming.
Durability
Commercial carpets need to be extra tough. We would advise you to opt for the more expensive options if your budget allows, as they will last longer and work out cheaper in the long run.
Ease of Replacement
No matter how durable your carpet, it will eventually wear out if is subjected to years of heavy use. Carpet is easily replaceable and fitting costs are inexpensive.
Safety
Carpet is a good material if safety is a concern. Carpet will provide a firm grip underfoot and will lessen the chances of slipping and falling. Should an accidental fall occur, the soft landing provided by carpet will mitigate any injuries.
Comfort
Carpet can be used to add a welcoming and inviting ambience to your space. Carpet is used to make people feel at home and is popular in hospitals and schools for this reason. If sound insulation is important, carpet is excellent at dampening noise, which will be useful if you require your environment to be quiet.
Call now for a free quotation
Choices of fibre
At Cherry Carpets we generally recommend synthetic fibres for commercial carpeting. Synthetic fibres such as nylon are extremely durable, stain-resistant and cost effective. Nylon is water resistant and can even survive oils and chemicals.
For rooms where a touch of elegance is required, wool provides an upmarket solution. Wool carpets require more regular cleaning than synthetic carpets, and they will not be completely water resistant. However for pure style and class, wool is without peer.
Wide range
At Cherry Carpets we have a dazzling array of colours and design options for you to choose from. Whether you favour a discrete understated look or wish to make bold statement to impress your clients, we have the solution for you.
Underlays
We always recommend the use of heavy duty underlays for carpets which will be subject to a high footfall. Underlays are especially recommended for stairs. A good underlay will protect your carpet and extend its life. It will keep your carpet free of dents from furniture, reduce noise and retain warmth during the winter months.
Cherry Carpets are now suppliers of Instalay, the new revolutionary underlay flooring installation system. This innovate product removes the use of adhesives, is quick to install and is clean and tidy for your property.
Instalay adds underfoot comfort to your flooring. It's great for sound absorption making it ideal underlayment for hospitality, private homes, retail, healthcare, education facilities and more.
This product is perfect for use as underlayment for Carpet tiles, Carpets, Wood, Laminate and luxury vinyl tiles. What makes this product even better is that it's environmentally friendly, made from recycled tyre rubber and fully recyclable.
At Cherry Carpets we have a large range of underlays available. Please call us on for advice on which product is right for you.
At Cherry Carpets, we take great pride in every job, regardless of the size and we go the extra mile to ensure that we exceed your expectations and continue to build on the excellent reputation we have built. Our team are all fully employed by Cherry Carpets, meaning you get the benefit of fully accountable staff and also avoid the additional cost of paying a sub-contractors premium.
So, if you are considering a new heavy duty carpet for your commercial space then please call us on or click here to complete the contact form and we will be in contact within 24 hours.
We are proud members of Checkatrade and you can view feedback from our many satisfied customers on our company profile by clicking this link.